Picture your life and be happy!
I started to paint
when a nice Italian woman read my palms and told me, I was a painter. This has been 20 years ago....
When I retired from my main profession as a Natural Practitioner and Physiotherapist
I renovated my Atelier to enjoy even more creating my artwork .
I am inspired by Love, Buddhism, Traveling, Music, Spain and by Nature.

As an artist I am a color player.
My creative processes are free and open-ended, sometimes I have to destroy to build up again. I develop my style in colorful bright and expressive figures and abstraction.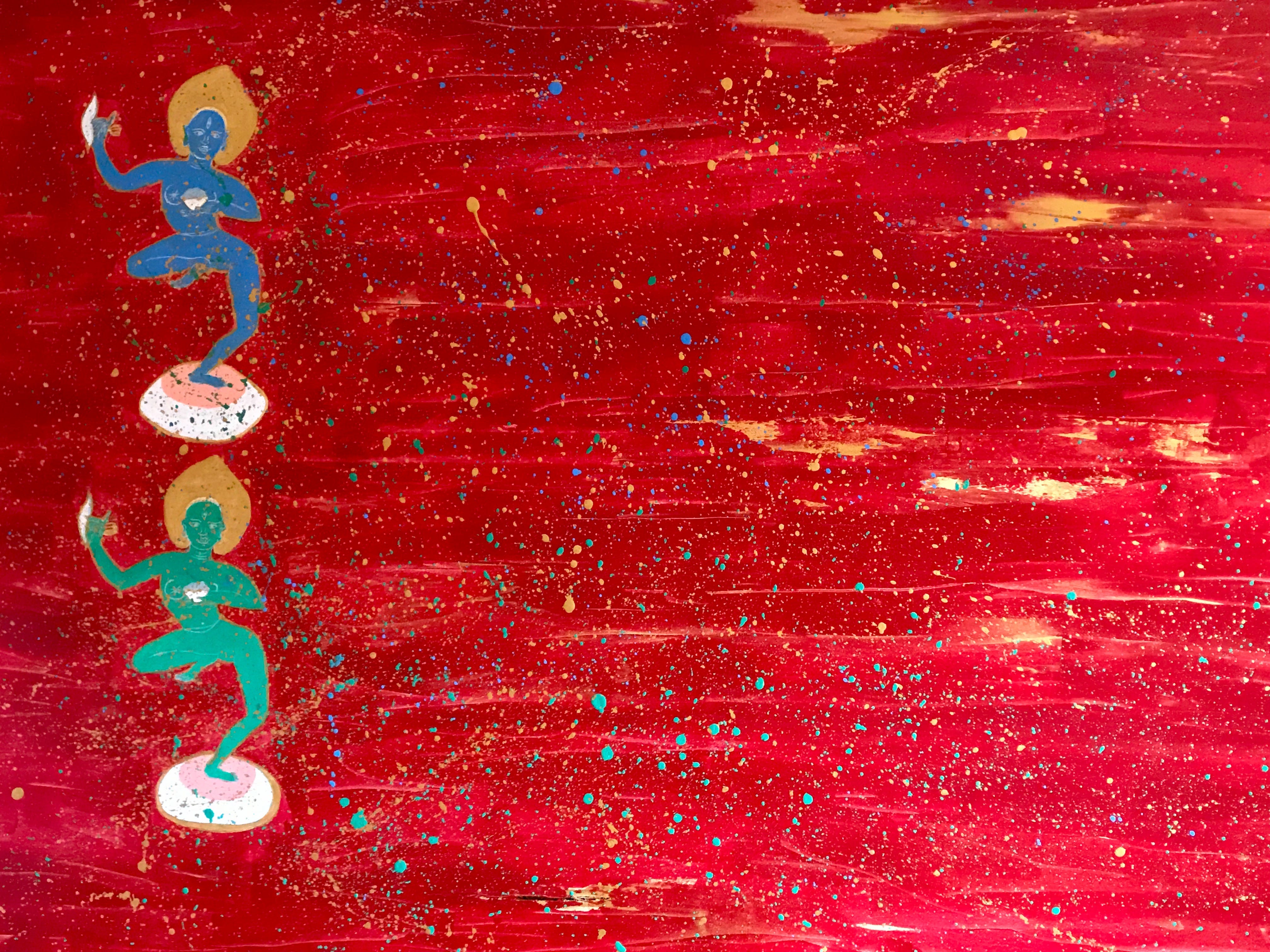 BIO

1959 born in Wuppertal
1977 Abitur
1977 - 81 Study Applied Linguistics
1983 - 88 Training as a Physiotherapist
1994 - 96 Study Sport Science in Hamburg
1996 - 09 Working as an independent Physiotherapist
2000 - 03 Training in Feng Shui and Bazi Suanming ( Chinese Astrology )
since 2006
Natural Practitioner
2009 - 13 Training in Biosynthesis
2017 - 19 Training in Systemic Constellationwork and Evolutionary Astrology


since 2010
continuous training in drawing , painting and nude painting
since spring 2021
Student of the Free Artschool Wiesbaden

EXHIBITIONS

August 2019
' JETZT ODER NIE 'First Exhibition in Klingenberg / Main

January 2020
' ELFENBEIN UND KUNTERBUNT ' Exhibition Klingenberg Townhall

June 2021
Collaborative Show 'CONSTELAÇIONES '
Galeria Azur Madrid @galeriaazurmadrid

July 2021
' COLOR YOUR LIFE ' Doctors Office Dr. Nolte / Klingenberg

August/ September 2021
Collaborative Show 'URBAN PERSPECTIVES'
Grace Denker Gallery / Hamburg

October 2021
Collaborative Show ' PARADOX '
Galeria Azur Madrid @galeriaazurmadrid

November 2021
Online Exhibition HYSTERICA @m.a.d.s.artgallery
Milano / Fuerteventura

January 2022
Double page Featuring
ARTIST TALK MAGAZINE Issue 18
@artisttalkmagazine

February 2022
Collaborative Show Plasticity
Galeria Azur Madrid

March 2022
Collaborative Show
Galeria Azur Berlin
@galeriaazurberlin

March/April 2022
Solo Show
Amtshausgalerie Freudenberg

September 2022
ART3F Luxembourg

September 2022
Group Show Euphoria
Galeria Azur Madrid

October / November 2022
Group Show Dreamland
Galeria Azur Madrid

January 2023
Bricklane Gallery London
My Vision
In my former profession as a therapist I always had the idea of supporting my clients in finding their source of power and doing their things out of the deepest Joy of their heart


My Source of Power is Painting !
For me it is pure joy to paint and I would like to inspire people always to
Follow the Path of their Heart
Meine Vision
Als Therapeutin versuche ich stets, meine Klienten darin zu unterstützen, die Quelle ihrer Kraft zu finden, und ihre Angelegenheiten aus der
tiefen Freude ihres Herzens zu erledigen.


Meine Quelle der Kraft ist die Malerei

Es ist für mich meine größte Freude.
Mit meinen Bildern möchte ich den Menschen Freude bringen
und ihnen Mut machen,
den Weg ihres Herzens zu gehen